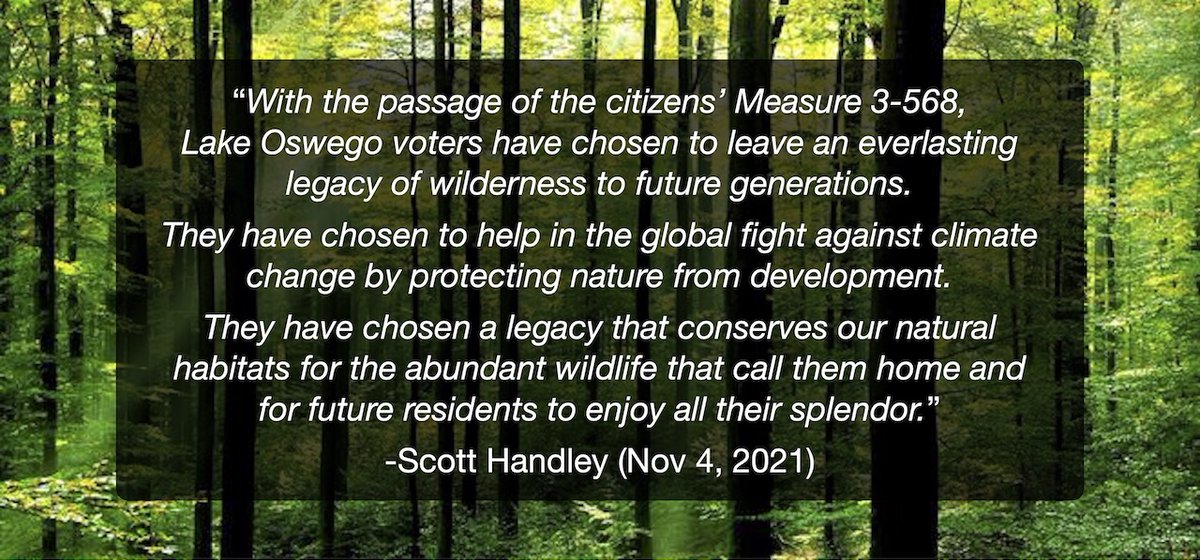 LoveLOParks is a Lake Oswego grassroots effort organized by residents to protect Lake Oswego natural parks from future development that is inconsistent with maintaining these lands as natural habitats. We are an independent entity operating as citizen oversight to the City for Lake Oswego. Our natural parks define our beautiful City's character and are nestled into the very fabric of our neighborhoods. We want to keep it that way for the enjoyment of their natural splendor and wildlife for generations to come.
Our grassroots movement is rooted in decades of City plans, exploits, and development of our natural areas; many times, requiring significant community involvement through a tedious and costly "public" process that discounts our voices. We formed this grassroots effort in the Fall of 2019 soon after Saving Cooks Butte for the 3rd time from a significant telecommunications facility. Majorie and John Emery deeded Cooks Butte with the intention for this heritage landscape to remain forever wild and free from commercial development. Fortunately, with the assistance of the Emery family, Cooks Butte remains a natural beacon across Lake Oswego's skyline today.
While soliciting support to Save Cooks Butte, we learned:
residents across Lake Oswego shared our frustrations with the City's decades of development ambitions at the expense of our natural parks their habitats.
the City's development code for Parks and Natural Resource Areas (PNA) and Sensitive Lands (SL), as well as our community citizen involvement process fails to sufficiently protect our natural parks from development.
the City failure to prioritize and produce park-specific master and management plans for a majority of our natural parks after decades of acquiring these lands; such plans would further define the intent to protect these parks as natural habitats.
citizens in the 1970s protected Springbrook Park from high-density housing and a major a major athletic facility by a citizen-initiated measure being overwhelmingly ratified 3:1 by voters, producing Chapter X – Park Development Limitation in the City's charter. Springbrook has been protected for over 40 years; most recently, City plans for the Tennis Center expansion.
From listening to our friends and neighbors, it was clear we needed reasonable legal safeguards to help future residents baring the effort and cost to express the community's desire to protect these natural habitats from City development.
In November 2019, we launched a citizen initiative petition, 2020IN-1, to amend Chapter X and to inform and educate our community on the protections we sought. After 18-months navigating the global Covid-19 pandemic, wildfires, and ice storms, our coalition of volunteers and donors succeeded in collecting more than the required 15% qualifying signatures for the ballot.
On November 2, 2021, Lake Oswego voters approved our citizen-initiated Measure 3-568 that amends Lake Oswego's City Charter Chapter X – Park Development Limitation with legal safeguards limiting development to keep our natural parks natural — garnering 62% of the vote. By Lake Oswego voters approving Measure 3-568, they have chosen to leave an everlasting legacy of wilderness to future generations. They have chosen to help in the global fight against climate change (at our local level) by protecting these natural parks from development. They have chosen a legacy that conserves our natural habitats for the abundant wildlife that call them home and for future residents to enjoy all their splendor.
While our natural parks are now protected by the revised City Charter Chapter X – Park Development Limitation, we're committed to remain organized as a citizen oversight to ensure the City upholds the voters' will.
Sincerely,

LoveLOParks Steering Committee:
Brad Home
Scott & Joey Handley
Michael Louallier
Kirsten Sommer
Betsy Wasko