Update Nov 7, 2019: Save Cooks Butte prevails in battle with the City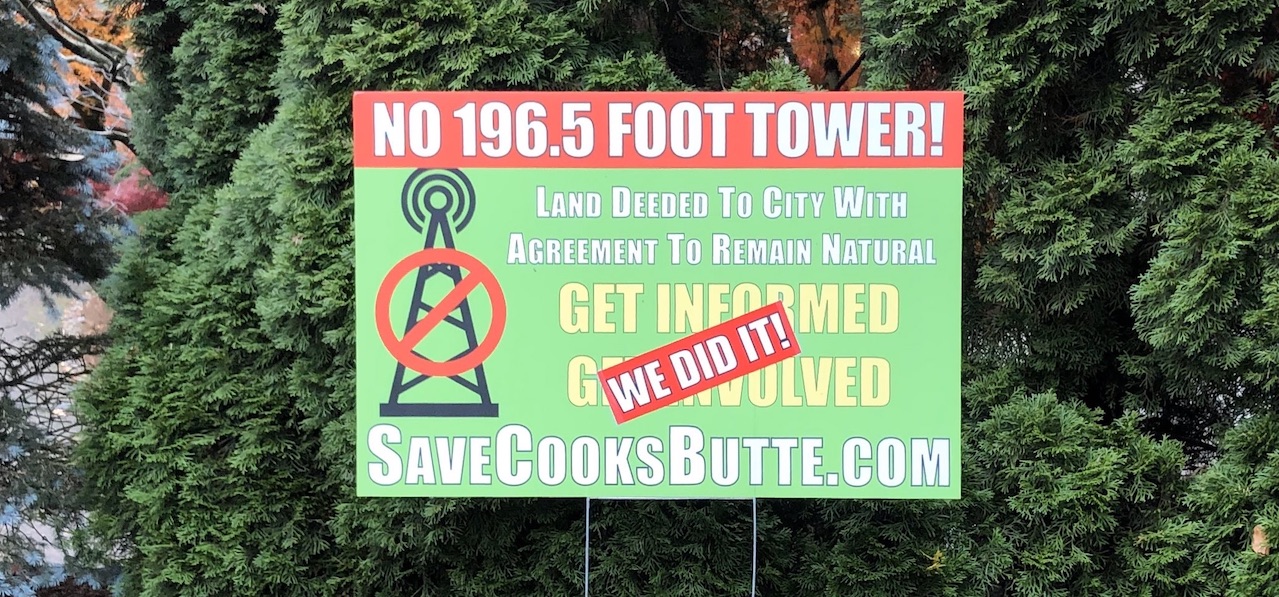 WE DID IT – AGAIN!
COOKS BUTTE IS PROTECTED FOR NOW…
DEED RESTRICTIONS EXPIRE WITH GRANTOR'S CHILDREN
Cooks Butte is 42 acre a natural park in the Palisades Neighborhood of Lake Oswego, Oregon — a neighborhood of ~1800 residential homes. A network of trails offers hiking as well as opportunities for jogging, dog walking, bird watching, and enjoying the view of Mt. Hood from the top of the butte. The meadow at the top is a place where people gather to picnic and enjoy the serenity of nature. Many native American artifacts have been found here, and it was once thought that the butte once served as a burial ground for the area's native inhabitants.
The park has four entrances, each with ample street parking:
Palisades Crest Drive
Delenka Lane
Westview Drive
Atherton Drive
Cooks Butte abuts Stevens Meadow which abuts Stevens Homestead. The Parks and Recreation department is in the process of making Stevens Homestead a regional trail connector to Luscher Farms, Stevens Meadows, and Cooks Butte. Designs include parking, restroom facilities, and a potential picnic area.
Did you know?
John and Marjorie Emery deeded this land to the City in 1975 for a small fraction of its true market value; fully understanding its significant future valuation. In return, the City agreed to preserve this natural habitat and never develop this land.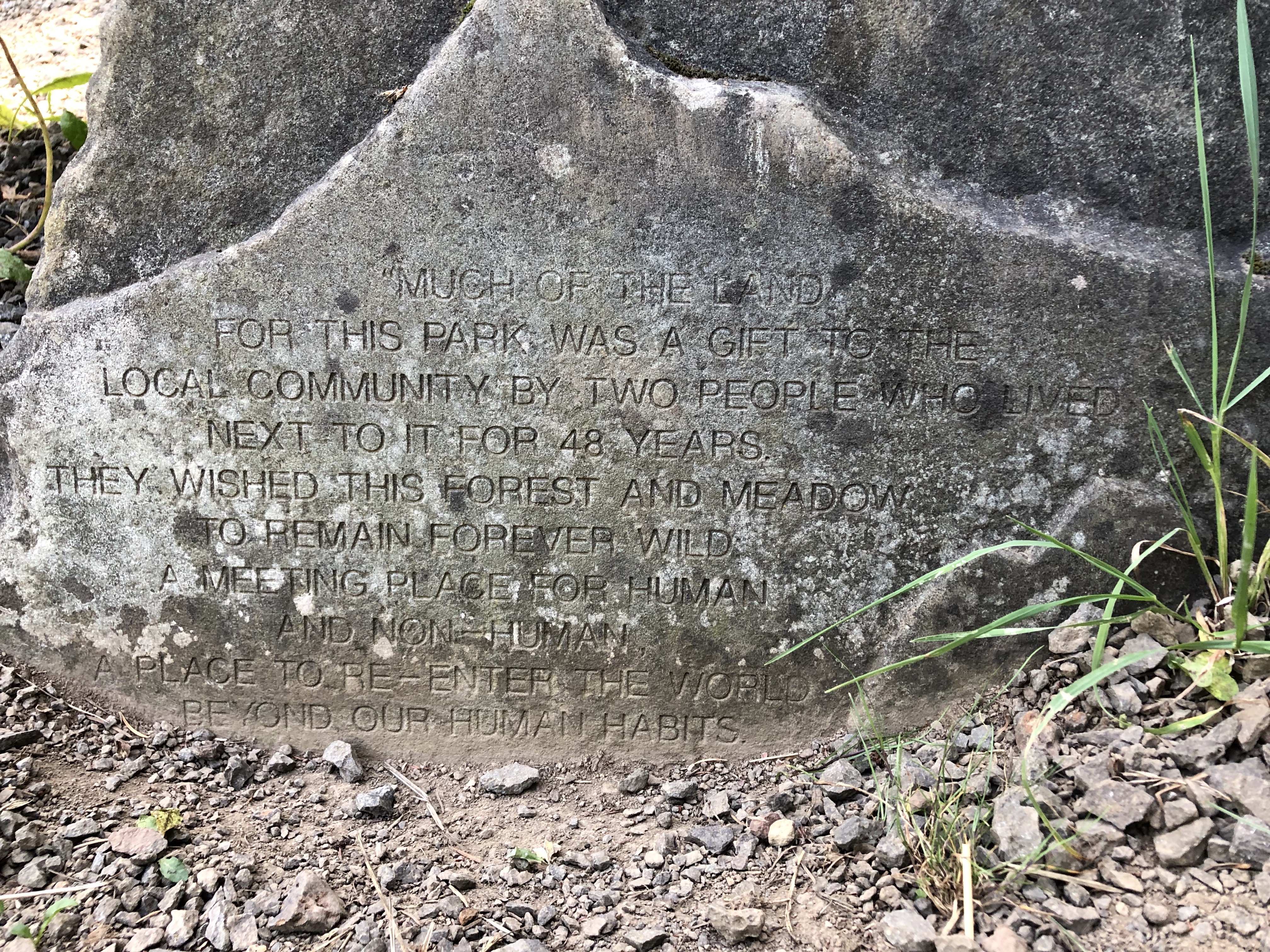 Did you know?
The City has sought to break their commitment to John and Marjorie Emery to keep this park natural 3 times over the last 25 years:
1994. The City and GTE sought to construct a 65 foot cellular tower. The community was outraged and Marjorie Emery submitted an affidavit reiterating the intended use of this land as a natural park and that a telecommunications tower would violate the agreement.
2002. The City and Clackamas 800 Radio Group (C800) sought to construct a 150 foot telecommunications tower. Once again, the community with the assistance of the Emery brothers (Walt, Les, and John) reminded the City that telecommunications towers were not compatible with the deeded intended use then nor in the future.
2015 – 2019. The City and Clackamas 800 Radio Group (C800) sought to construct a 196.5 foot telecommunications tower.

2015. C800's shows interest in pursuing Cooks Butte once again for a telecommunication tower.

No community notice

.
June 2017. The City sought Walter, John, and Les Emery's consent.

No community notice

.
December 2017. The City passed resolution 17-69 authorizing a lease with C800.

No community notice

.
April 2018. The City quietly signed the lease with C800.

No community notice

.
Labor Day 2019. Less than 125 residents received a non-descriptive envelope for a public information meeting on the tower.
Sept – Nov 2019. The community mobilized, collected 900+ petition signatures to keep Cooks Butte natural and free of telecommunications towers, spent thousands of hours seeking the truth, facts, and to keep the community informed.
Nov 5, 2019. After learning the facts and observing the community's overwhelming support to honor Majorie and John Emery's wishes for Cooks Butte to remain a natural park, the Emery brothers (Les, Walt, and John) reaffirmed their parents wishes and rescinded their consent for any telecommunications tower on Cooks Butte now and in the future. The City Council voted unanimously to inform C800 they could no longer offer Cooks Butte.
Nov 20, 2019. C800 informed their board regarding the City's letter to rescind the lease at Cooks Butte. C800 discussed alternative sites (Skylands, for which they still held a lease dating before Cooks Butte) and requested an executive session to discuss a direction.
Dec 18, 2019. C800 board chose to discontinue pursuit of Cooks Butte and pursue other suitable sites. More information expected in January on other sites.
Our community fully stands behind our first responders and their need for quality communications. That was never the debate.
While the community had sought a dialog between the City and C800, the City and C800 chose to be uncooperative, instead choosing a path that shutout our community. We hoped for a transparent dialog to discuss all aspects — location, technology, health, etc — but we were refused cooperation for these most basic requests for more information.
Cooks Butte is not the best location when taking into account all factors. It's Grantors, John and Marjorie Emery, wished for this land to forever be wild. It is one of Lake Oswego's few remaining natural parks. Any structure is inconsistent the natural conditions and the intended use of a natural park. We continue to be concerned on what precedent these attempts might have on discouraging future donors from bestowing such gifts upon our community.