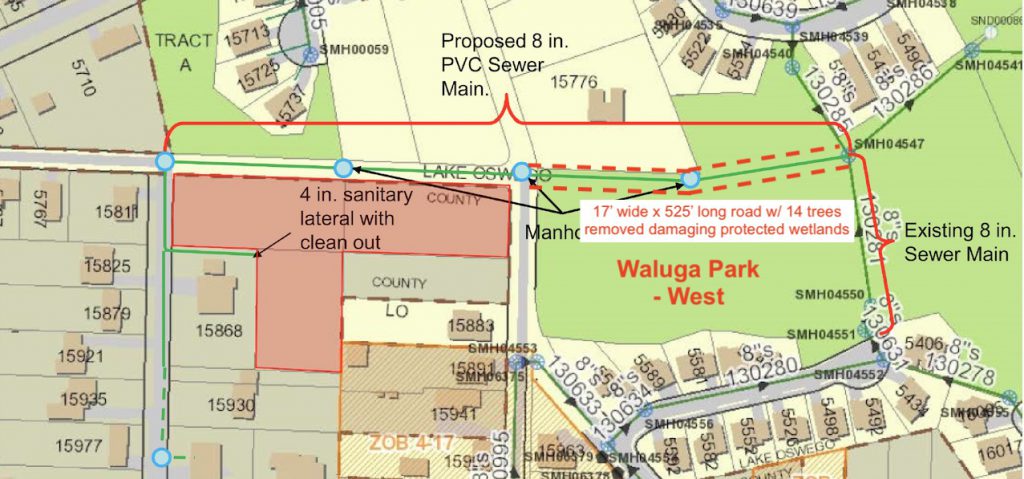 Waluga Park – West's natural area is being illegally threatened for the gains of a private local developer (and the City)!
A private developer (the applicant) has a pending development application, LU 23-0002, seeking to establish 5 residential lots, connect to city sewer services, and remove 43 trees in the Lake Forest neighborhood.
The City of Lake Oswego has directed the developer to connect to sewer services within the natural area of Waluga Park – West, a 22.8 acre city charter protected Nature Preserve. The natural area of Waluga Park – West would be severely impaired with significant damage to flora and fauna with the removal of 14 significant trees to construct a 17′ wide by 525′ long road to facilitate the trenching and installation of the sewer line.
The Lake Forest (NA) has opposed LU 23-0002 citing the applicable City Charter and City Code. Their first opposing position succinctly invokes Chapter X's development limitations, referencing the precise legal mandates imposed on the City. And, their second opposing position concisely enumerates the City hasn't considered all available alternatives.
The City has rejected Lake Forest NA's opposing position, as well as ignored comments from concerned residents, and provided tentative approval for LU 23-0002. In their staff report (pages 10-13), the City falsely claims Chapter X doesn't have jurisdiction over City Code. Additionally, the City has the audacity to suggest Lake Oswego residents engage them in a costly court challenge to compel them to comply with the voters intent for Chapter X.
The LoveLOParks Steering Committee is the architect and steward of Chapter X's legal mandates and the executor of BOTH the citizen initiative petition 2020IN-1 and Measure 3-568. After reviewing all details resulting in LU 23-0002, the LoveLOParks Steering Committee concurs with Lake Forest NA's findings: this development violates the City Charter Chapter X as ratified by Lake Oswego voters on November 2, 2021.
The Lake Forest NA Board and LoveLOParks Steering Committee strongly urge all Lake Oswego residents to get involved and make your voices heard before its too late for Waluga Park – West. Together, we must defend the fundamentals of our democracy in governance by the people and uphold the rule of law.
City Charter Primacy
The City Charter defines the governing system for granting authority or rights and creating limitations on city powers and functions. The City Charter implicitly retains superiority over City Code and ordinances; much the same way that federal law retains superiority over state law and state law retains superiority over city charters. City Charter changes are restricted to a vote of the people, thereby protecting the city's governing system from tampering by the revolving door of politicians and city staff.
Per the Oregon Supreme Court, "[T]he validity of local action depends, first, on whether it is authorized by the local charter or by a statute, or if taken by initiative, whether it qualifies as 'local, special (or) municipal legislation' under [A]rticle IV, section 1(5); second, on whether it contravenes state or federal law." La Grande/Astoria v. PERB, 284 Or 173 (1978)" Assuming that a local action is authorized by a city's charter, the courts will then ask whether the local action is "incompatible" with state law, either because the Legislature intended to preempt local lawmaking authority (i.e., "express preemption") or because state and local law cannot operate concurrently (i.e., "implied preemption").
Lake Oswego residents intentionally architected and placed Chapter X – Park Development Limitation in the City Charter and not City Code. This guarantees that the voters' explicit will and intent is upheld to protect 15 natural areas from all development that is inconsistent with preserving them as natural areas.
The City of Lake Oswego knew that citizen-initiated Measure 3-568 imposed strong legal mandates on the City to preserve these natural areas. This is precisely the reason they chose to compete against Measure 3-568 with a developer-friendly referendum that delegated authority to City Council. Voters recognized the City's deceit and rejected their referendum.
* Applicable Regulations sections in City documents and public meetings held by the Mayor, City Council, City Manager, and City staff fail to acknowledge city charter Chapter X land use limitations for Nature Reserves
LU 23-0002 should never have reached this stage in the City's development process. Mayor Joe Buck and City Council should have rejected Ordinance 2874, annexing the aforementioned properties (An 21-0003), at the city council meeting on March 17, 2022, on the grounds the City directing the applicant to execute a covenant for a sewer line through Waluga Park – West was not compliant with Chapter X, effective November 2, 2021.
In fact, Mayor Joe Buck, City Council, and the City Manager should have raised concerns on November 2, 2021, when Ordinance 2874 was first introduced since voters were casting their ballots for two park preservation measures that very day: citizen-initiated Measure 3-568 and the City's own competing referendum.
Mayor Joe Buck and City Council's failure to acknowledge Chapter X shows their apathy toward the will of Lake Oswego constituents and the city's governing system — once again, demonstrating Lake Oswego voters were justified in ratifying Measure 3-568. It is now incumbent on the Development Review Commission to reject LU 23-0002 to comply with the City Charter, the City's governing authority.
More information