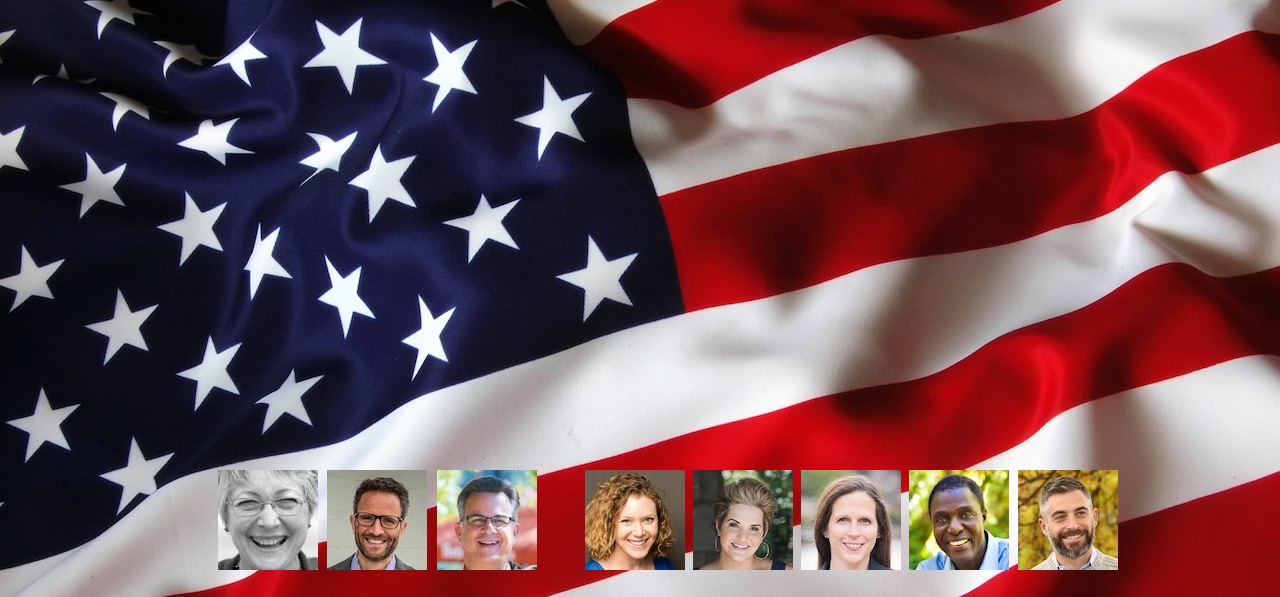 Last updated: October 20, 2020
We, the citizens of Lake Oswego, have an an opportunity this November to elect a new Mayor and 3 new City Council members — that's 4 of 7 council positions. Voters can have a real impact and influence on the future direction our city takes for its citizens.
Many of you have reached out to us about our thoughts on the candidates for Mayor and City Council. They want to know which candidates support our citizen initiative that would enact long-term protections for our natural parks.
We reached out to each candidate to request a conversation. Most accepted. We explained the decades of historical evidence in City Council and Parks Department minutes that highlight considerations to develop (or sell) some of these natural areas. We shared citizens' frustrations with the city's development process that places citizens at the end — intentionally making it difficult for citizens to oppose. And, we were interested in their thoughts on investing the resources to protect and preserve these natural areas, such as producing the missing park-specific master and management plans, that ensure they remain healthy and vibrant habitats.
For each candidate, we've included their social links, ORESTAR financial details, environment endorsements (if any), and petition signature status (if applicable). If you are interested in promoting our citizen initiative with any candidate, we've include an email template for each that you may personalize, sign, and email. Click a candidate to jump to their entry.
Visit this page frequently to learn what we hear from these candidates.
Mayor Candidates
Theresa Kohlhoff

Signed Petition
Dec 26, 2019

Jan 1 to Oct 2 – Campaign Finance (ORESTAR)
Cash Contributions (94): $22,550; Top: $5,000 (family); Top 5: $11,325; PACs (3): $5,200; Notable Entries: Appear mostly small individual donations

Aug 30, 2020 – Theresa's Town Hall
Theresa answers question on citizen initiative to protect natural parks: Watch Now (Fast forward to 41:00)

Sept 7, 2020 – Theresa's statement:
"As this matter is to come before the council and as it is part of my job to be open to the issues as they come up, I cannot guarantee how I will vote. I did sign the petition and would do so again after rereading what is being proposed. There is a time and place for different kinds of parks, ones that are fully developed, and those that are to remain as natural preserves. I was walked through Woodmont Natural Park awhile back and was told that it would remain as it was minus some "nonvaluable" trees and plus some unobtrusive amenities. Instead, it was graded. I walked through Hallinan Woods again the other day and in the center of it you could not see development in any direction and it was like being in the Tongass Forest of Alaska. I am sure there are a few words in the charter that could be improved but there are a number of worries that are entirely overblown in my mind. I live very close to Springbrook Park and know that since 1989 when Mike and I moved in, but for the charter, there would have been all manner of development. Even so, there is massive activity and use, so it's not like it's pristine and unavailable to the residents. Finally, I realize that everyone likes the idea of flexibility and having discretion. If everyone was highly responsible and environmentally centered then maybe we could rely on good sense and respect for leaving nature to be nature. We know that is not human nature! If there was a drastic need to do something in one of these preserved parks, then the charter could be changed. Other than that, it appears the proposed charter change is a nice balance between what would still be allowed and what would keep the preserve a preserve." – Theresa Kohlhoff

Sept 27, 2020 – Theresa's Town Hall
Theresa answers citizens' questions on policy to save trees and protect natural parks: Watch Now (Time segments- 27:34, 43:00, 52:55)


Joe Buck
Met Sept 11.
Declined to provide statement.
Declined to sign petition.
Jan 1 to Oct 2 – Campaign Finance (ORESTAR)
Cash Contributions (87): $33,923; Top: $5,000 (Portland Realtors PAC) Top 5: $13,500; PACs (4): $8,650; Notable Entries: Friends of Daniel Nguyen, Robert Pamplin Jr. stakeholder in Pamplin Media Group (aka LO Review)

Sept 23 – Joe Buck for Mayor Facebook page banned us from posting legitimate comments seeking policy positions on trees and natural parks. Think about that…a candidate running for office bans potential constituents asking reasonable questions based on his past public record that he chooses not to answer. Zero transparency. What does that say about his character and listening qualities for citizens wishing to make an informed vote for their next Mayor.

Oct 1 – Joe Buck's city residential status is in question. A recent LO Review article, Facing questions, Lake Oswego mayoral candidate Joe Buck clarifies residency, does not offer a complete representation of the facts and attempts to confuse voters on the merits of the accusation. Our city charter requires a mayoral candidate to reside within city boundaries. Theresa Kohlhoff offers additional facts citizens must know that were not included in the article on her FaceBook page. Elected leaders need to be truthful and transparent and above all follow the rules. You decide.
John LaMotte
Declined to respond to proposed meeting dates.
Jan 1 to Oct 2 – Campaign Finance (ORESTAR)
Cash Contributions (55): $59,285; Top: $10,000; Top 5: $20,500; Notable Entries: Renaissance Home Employees (11) $16,500; Substantial donations from investment, real estate, and property management sectors

Dec 17, 2019 – City Council Citizens Comment
Listen to Mr. LaMotte falsely claim the City has honored deeded natural parks restrictions (Cooks Butte, Woodmont Park), does not recognize difference between developed and natural parks, and patronizes the speaker about city planning processes. The speaker expressed the community's distrust with the City as good stewards for guaranteeing the protection of natural areas after recent and a long history of exploits, and expressed desire for a partnership toward implementing permanent protections. Instead of listening, Mr. LaMotte chose to entrench, berate, and disrespect the speaker. Watch Now

Jun 6, 2019 – City Council Citizens Comment
Watch Mr. LaMotte's conduct to a citizen expressing a concern on a topic of community importance. Not only is his conduct demeaning, but he chastises the speaker for points she did not make. Watch Now
City Council Candidates
Emma Burke

Signed Petition
Sept 11, 2020

Jan 1 to Oct 2 – Campaign Finance (ORESTAR)
Cash Contributions (15): $2,736; Top: $500; Top 5: $2,000 PACs (4): $1,750

Sept 7, 2020 – Emma's statement:
"I'm endorsed by the Oregon League of Conservation Voters (OLCV) as well as many other people, organizations and associations shown on the www.ElectEmmaBurke.com homepage's Facebook feed which features "100 Days to Election!" countdown. Each post features an endorsement or news piece relevant to the campaign or our community. I'm very accessible and want folks to feel welcome to contact me with any questions. No guarantee I'll have the answer though! I believe City Councilors aren't elected for having all the solutions, but rather for being accessible representatives AND promoting their neighbors' best ideas to help improve our community. I care deeply about being a good steward of our resources, both in terms of our natural surroundings and monetary funds available to our municipality. I look forward to partnering with residents to help Lake Oswego be the best community we can be!" -Emma Burke
Melissa Fireside

Signed Petition

Jan 1 to Oct 2 – Campaign Finance (ORESTAR)
Cash Contributions (38): $8,696; Top: $3,000 (#1159 FirePac); Top 5: $4,900; PACs (2): $3,250

Sept 5, 2020 – Melissa's statement:
"I, like many of my neighbors and fellow community members, came to Lake Oswego because of the beautiful urban forest, amazing parks and open spaces, natural habitats, and unique neighborhoods. To me, prioritizing maintaining and protecting our urban forest and big trees, investing in natural areas, and protecting the Stafford Hamlet from development are vital to maintaining a high quality of life for all Lake Oswegans. As your next City Councilor, I want to work closely with experts in climate change, watershed, and park maintenance to ensure there is a consistent climate change lens on City Council's mind when making decisions that impact urban forestry management and our beautiful natural habitats. " -Melissa Fireside
Rachel Verdick
Met Sept 9.
Declined to sign petition.
Jan 1 to Oct 2 – Campaign Finance (ORESTAR)
Cash Contributions (17): $7,400.00; Top: $3,000 (#1159 FirePac); Top 5: $5,500; PAC (1): $3,000

Sept 17, 2020 – Rachel's statement:
"Parks and Trails Are Critical to Lake Oswego. One of the many reasons people choose to live in Lake Oswego is because of its wonderful parks system. This includes both formal parks and natural areas. I strongly advocate for our natural areas because I believe they contribute to Lake Oswego's sense of place, improve our quality of life, and are beneficial to the environment. Further, parks and trails are critical environmental building blocks which contribute to our community's health and wellbeing. So, it is essential that our parks are cherished and maintained (once a green space is built upon it is extremely difficult to return it to a natural space). Therefore, if elected, I commit to supporting initiatives that preserve existing and increase the availability of our parks and trails while also seeking to safeguard the natural habitats that many of our parks provide." -Rachel Verdick
Massene Mboup
Met Sept. 22
Promised signed petition. Not Received.

Jan 1 to Oct 2 – Campaign Finance (ORESTAR)
Cash Contributions (55): $16,326; Top: $6,000 (#1159 FirePac); Top 5: $8,585; PACs (5): $7,285

Sept 22, 2020 – Massene's statement:
"Our natural resources are very important, actually they are the only resources that need to be protected right now. I also believe that citizens should be the stewards of our Parks, our natural resources.
Coming from a part of the world where natural resources had been plundered I value what we have here. We should protect our parks as if our lives depended on them; and really they depend on them.
Lake Oswego has a unique wealth, the only one that counts, our natural resources (Parks, Lake). We should protect them by any means." -Massene Mboup
Aaron Rapf
Met Sept 4.

Signed Petition
Oct 20, 2020

Jan 1 to Oct 2 – Campaign Finance (ORESTAR)
Cash Contributions (58): $22,730; Top: $5,000 (individual); Top 5: $9,038; Notable Entries: Mayor Studebaker, Councilor Wendland

Oct 20, 2020 – Aaron's statement:
"Our parks are the envy of the region and must remain so. Well turfed fields for our children to play on, our beautiful open spaces and natural reserves, are vital to our community as well as for attracting a diversity of young families to Lake Oswego. I have always advocated for resources to be allocated to our parks and natural areas during my 4 year tenure on the Lake Oswego Budget Committee and I will continue that support on the City Council." -Aaron Rapf