"You cannot get through a single day without having an impact on the world around you. What you do makes a difference and you have to decide what kind of a difference you want to make." -Jane Goodall
We're experiencing the horrors of an existential global climate crisis. People have lost homes; some their lives. A million forested acres have burned. We've choked on the worst quality air in the world with unknown health consequences. We need bold leadership new leader ship now! We need leadership that prioritizes our natural resources for all over the short-term financial gains of a few.
Lake Oswego's biggest weapon to combat climate change is strong policy that protects and preserves the natural environment we take for granted: big trees, natural parks, and open spaces. We need thoughtful and deliberate planning for future growth, economic opportunity, and transportation that places greater emphasis on protecting natural resources.
Over the last several months, I have been asked by many if I would consider running for city office, or if I would be endorsing candidates. While I'm flattered by the suggestion, I currently don't have aspirations for city office (and I prefer to remain married to my lovely wife ?). And, endorsing a candidate is no small responsibility as we each have individual qualities, attributes, and policies we look for in candidates. However, I reached out to each candidate with an offer to discuss natural park protections and to learn more about them.
After researching and speaking with candidates, a few standout with strong conviction for protecting Lake Oswego's natural resources. Theresa Kohlhoff's leadership with her unwavering consistency, authenticity, innate quality to listen, and economic plan that includes our environment is the Mayor we need! She can't do it alone. Emma Burke, Melissa Fireside, Rachel Verdick, and Massene Mboup are equally impressive; each bring unique qualifications that round out our community's diverse needs on City Council.
Theresa, Emma, Massene, and Melissa are endorsed by the Oregon League of Conservation Voters as of this writing, Theresa and Emma have signed our initiative petition to protect our natural parks from future city development. Have you sign it? SIGN NOW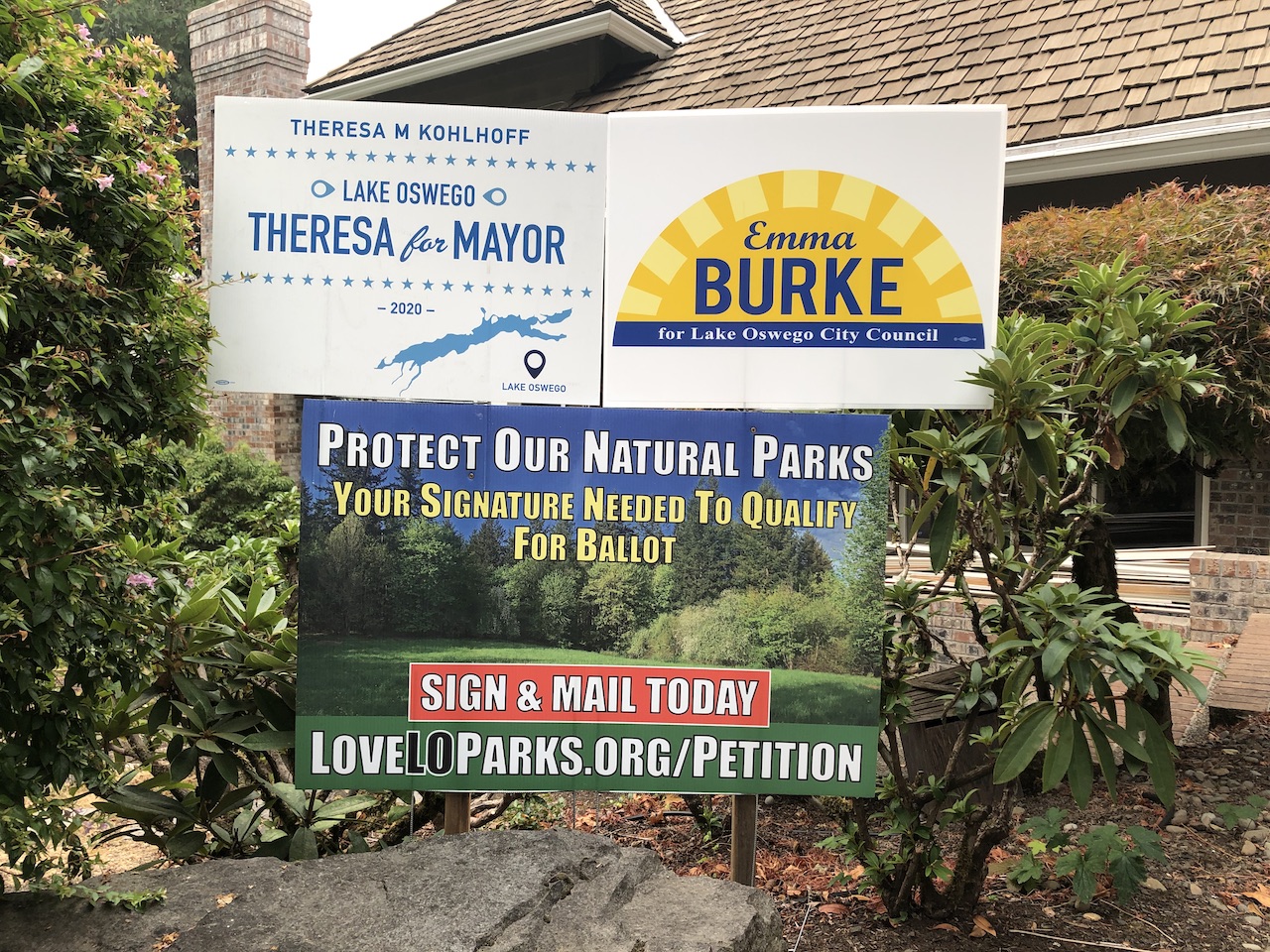 Lake Oswego's urban forest and future as a "Tree City USA" is on the ballot. Join me in voting for candidates who have the courage to take action to protect it!
Visit our election dashboard to read candidate statements and more. You may even ask any candidate to support our effort with a prepared email template by clicking the email icon under their name.
We can only expect the change we deserve when we participate and make informed decisions. I hope you find this information useful in your quest to elect our next leaders.
Best regards,
Scott Handley
Chief Petitioner | Palisades Resident
Love Lake Oswego Parks Committee
Originally published Sept 18, 2020. Revised Sept 30, 2020.